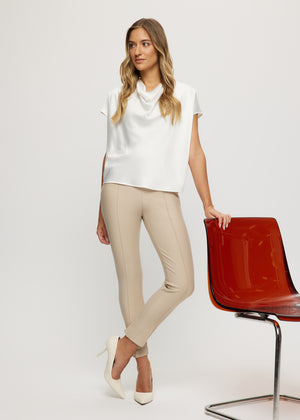 77 products
---
Who doesn't get excited when their favorite clothing brand launches new styles? Thanks to our latest arrivals, you're sure to be one of the first women to experience our sublime slimming pants, skirts, and shorts.
Be Fashionable with Our New Styles!
You want to feel unique, and Margaret M knows it. We proudly invite you to browse this page featuring our newest designs. Elevate your style and remain trendy with our comfortable and stylish products.
Take a Peek at our Newest Fashion Slimming Clothes!
To make fashionable slimming clothes, there are only three things you need to remember: versatility, quality and fit. These elements are at the core of Margaret M's slimming clothes and are the most important factors you have to keep in mind when it is time for you to choose your next slimming outfit. Whether you are looking for a classic pair of slimming pants, comfortable shorts for summer, or a pencil skirt for the office, you'll find what your heart desires in our revolutionary and fashionable slimming collection. Why did we pick these values to create our life-changing pants, skirts and shorts? The reasons are simple: Versatility, so you can easily mix-and-match them with your favorite pieces; Quality, because we believe women should be able to wear clothes that are easy to care for and comfortable; And finally, the fit is everything.
Materials of the Highest Quality Our slimming clothes have also been created with quality in mind, which is why all our fabrics are treated for shrinkage and softness. They are easy to care for and our memory stretch material holds your body in all the right places. So, not only are our slimming clothes ultra-fashionable, but they will also make your hips, belly and thighs look absolutely incredible! The added tummy tuck control at the waist is one of the top on the market. Our mission was to provide the modern, fashionable woman with the best tummy flattening shapewear possible. Want to look a couple sizes thinner for a romantic dinner or an interview? Our slimming clothes will deliver and you'll also look incredibly stylish. A Fit for Everyone It's not one size fits all, it's all sizes fit all! We have created slimming clothes that fit every body shape and every woman's curves. We are all unique, which is why our patterns will complement different body types. You can also easily choose between solid colors like our classic black slimming pants, or colored pieces to fit your wardrobe needs. We all have a blouse or shirt we never know what to pair with. Well, our revolutionary slimming clothes are there to rectify this situation! Get that neglected piece out the back of your wardrobe and pair it easily with one of our fashionable slimming fits! You no longer have to choose between comfort and style, so why not go for a timeless look by getting yourself a slimming outfit from Margaret M
---