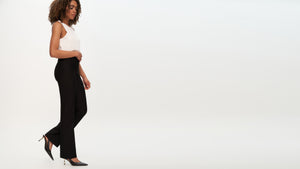 slimming pants
VERSATILE, COMFORTABLE AND SLIMMING
32 products
---
Our guiding principals for our slimming pants:
Versatility is key to streamlining your wardrobe; 
Quality will assure you comfort and easy care;
And fit is everything.
Slimming Pants: Where Slender Meets Style
The Margaret M slimming pant is versatile enough for every occasion. They can be worn at work, a night out with friends or even for a stroll around the city. They're comfortable and flattering to your figure, so you can feel good and look good, making them a must-have in your wardrobe. To help you in your search for the perfect fit, all our pants feature a tummy tuck and are composed of a memory stretch material to give your figure a flattering slimming effect that keeps you looking at your best.
Margaret M Slimming Pants
We believe that versatility, quality, and fit are the most important factors when choosing a pair of pants. The guiding principals for our pants are as follows; versatility is key to streamlining your wardrobe, quality assures you comfort and easy care, and the fit is everything. We believe that our pants should be as comfortable as they are stylish, so you can use them for any occasion. We have spent years perfecting our pants; to create the best pair of pants possible, one that rallies comfort and style.
The result is the Margaret M Slimming Pant. Shop with us for the perfect pair! With so many great reviews on Facebook and other social media sites, we are confident when we say that women who try our Margaret M Slimming Pants fall in love instantly!
They offer the best tummy control on the market as well as being incredibly fashionable and comfortable. If you ever dreamed of slimmer hips and thighs, they might just be the pair of pants you were waiting for! Treat yourself to the most comfortable and versatile pair of pants and shop with Margaret M! There's only one question left… which pair will you choose?
Whether you're looking for a classic pair of high waisted trousers or a funky printed pair, we have it. At Margaret M, anything is possible! We want to make sure you have a pair of slimming pants for any and all occasions. Our purpose? Giving you the best slimming fit possible so you always look your best! We proudly offer a wide range of options to match your current preferences and your lifestyle. Are you a businesswoman looking for a professional and stylish look?
A student in need of some clothes for the day-to-day as well as for your many evenings out? Our slimming pants will be your new best friend! We have created several unique and different pair of slimming pants for every woman and we are confident when we say we have a pair for you! You are looking for a pair for a chic evening in town or to go to your kids' soccer games?
We know that we have a design made just for you. Margaret M pants are highly fashionable and will rapidly become a must in your wardrobe. In addition to offering you a wide range of unique models, our fabrics are treated for shrinkage and softness to ensure quality. The fabrics used in our slimming pants have the same base material; a memory stretch that holds your body in just the right places. This means that your hips, thighs, and belly will never look as good as they would in a pair of Margaret M Slimming Pants.
Plus, we have added a tummy tuck control at the waist. You no longer have to worry about that belly bump since Margaret M offers the best tummy flattening shapewear. You will easily look thinner by a couple sizes while wearing our product and you'll also be super stylish while doing it! These considerations mean that Margaret M really has a pant for everyone. Whether you're classic or contemporary, petite or curvy, tall or short, our pants will fit you perfectly. We have patterns for all body types, as well as classic black and colored pants to fit your wardrobe needs.
If you have a neglected blouse at the back of your wardrobe, there might just be a pair of pants in our shop for you! If you are looking for a stylish and timeless look, you should definitely get your Margaret M signature Slimming Pants, an item that's been rethought and designed especially for you. You'll never find a pair of pants that does so much for your look while being this level of comfort.
Tired of the madness of large stores and shopping malls? We know your time is valuable and we understand it can be tiring to try on several pairs of pants only to end up disappointed.
They fit at the belly but not at the thighs, or they fit at the thighs but you are not well adjusted around the belly. Pants shopping can be time-consuming and disheartening. With Margaret M, it's the guarantee of a perfect slimming fit for you. With our free shipping over $50 and free returns policy, we make it easier for you.
You can try our Margaret M Slimming Pants from the comfort of your home without wasting your time in a store! Want to share with us your comments or questions? We'd be happy to hear them and give you answers! Contact us at +1 (514) 385-3122 or by email at orders@margaretm.ca. A member of our team will be happy to help you!
---