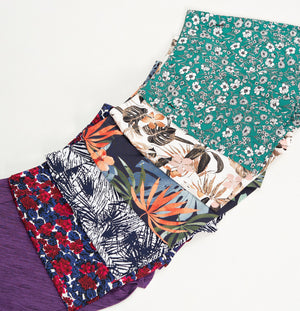 #slimmingshorts
FUN, COMFORTABLE AND SOPHISTICATED
42 products
---
The Most Comfortable Shorts!
If you're like us, you wear shorts primarily for comfort.
You might have also noticed that most shorts are either comfortable but bland-looking, or stylish and uncomfortable. We want to eliminate this dilemma from your busy life—and wardrobe. That's where our shorts come in. 
Thanks to our revolutionary, innovative and top-of-the-line materials, our shorts guarantee you comfort while offering you a range of stylish cuts you'll love.
Summer is so short; don't spend another minute without them!
Margaret M Slimming Shorts
We believe that when women are shopping for slimming shorts, they are looking for versatility, quality, and the best fit. These are the key elements we have kept in mind when we created our famous slimming shorts. T
hey are what make our shorts so revolutionary! All of our slimming shorts have been created with these three guiding principles: Versatility is the key to streamlining your wardrobe; Quality, so you can expect your shorts to be both comfortable and easy to care for; And finally, the perfect fit is everything. At Margaret M, we refuse to believe that any stylish woman should have to sacrifice their looks for comfort.
Our revolutionary shorts combine comfort and style so you can wear them for any occasion. We worked relentlessly in order to keep improving our products, and, after years of dedication, we've finally perfected our slimming shorts. We are proud to say that we have achieved our goal by creating shorts that are just as fashionable as they are comfortable.
You don't have to take our word for it. Just listen to what women on Facebook and our other social media sites have to say about our products! If you want to fall in love at first fit, we're confident you'll find it if you shop with us!
Our shorts provide you with the best tummy control on the market. Our stylish slimming shorts are more than just comfortable and fashionable, they will change the way you wear shorts forever!
These revolutionary shorts have the perfect slimming fit for every woman's body type. If your goal was to have slimmer hips and thighs, our form-fitting shorts are perfect for you! Time for you to get your shopping on and get a pair of our life-changing slimming shorts! The only thing that's left to do is picking up your favorite!
Are you tall and thin? Petite and curvy? No matter what your body type, we have a pair of slimming shorts for you. We have created our shorts so they fit different body types, with a wide range of patterns and colors to match your wardrobe needs. It's time to pull that neglected blouse from out of the back of your closet, because we're sure to have a pair of shorts to go with it!
Sacrificing style for comfort is a thing of the past. Summers are getting hotter with each passing year, and every woman deserves to be just as comfortable as she is fashionable. Treat yourself to a timeless look by getting yourself a pair of Margaret M's slimming shorts!
Tired of the madness of large stores and shopping malls? We know your time is valuable and we understand it can be tiring to try on several pairs of pants only to end up disappointed. They fit at the belly but not at the thighs, or they fit at the thighs but you are not well adjusted around the belly. Pants shopping can be time-consuming and disheartening.
With Margaret M, it's the guarantee of a perfect slimming fit for you. With our free shipping over $50 and free returns policy, we make it easier for you. You can try our Margaret M Slimming Pants from the comfort of your home without wasting your time in a store! Want to share with us your comments or questions? We'd be happy to hear them and give you answers! Contact us at +1 (514) 385-3122 or by email at orders@margaretm.ca. A member of our team will be happy to help you!
---