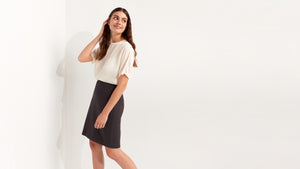 31 products
---
 Our skirts are a staple for any closet; perfect fit combined with perfect prints. They go with just about anything!
A Skirt for Every Occasion
"Wow!" is a standard reaction from someone trying our slimming skirts for the first time.
"I want one!" are words you'll hear a lot from people seeing you in your skirt for the first time, and it's no wonder.
Comfortable, elegant and stylish, our specially designed skirts are the go-to skirts for many occasions: days at the office, cocktail hour on the terrace or chic dining.
Made from only the best material, our skirts will elevate your style. 
Margaret M Skirts
Whether you're looking to give off the feminine or effortlessly casual vibes, skirts are the most flattering option. With Margaret M, find a skirt that fits every occasion, and everybody type.
Well-fitted skirts are undoubtedly a must-have for every fashionista's wardrobe. Margaret M has evolved into a brand that is well renowned for designing comfortable slimming wear for women.
Our specially designed skirts are both elegant and stylish. From workwear to cocktail hour, skirts are simply the best option to elevate your style.
Make a style statement with slimming skirts from Margaret M. Want to look a few pounds lighter and create a timeless look for your date night? Slip into Margaret M's A-line skirt and effortlessly add a grown-up glam to your look.
With plenty of structure, this type of skirt is a perfect choice for athletic body shapes. Depending on the occasion you are dressing up for, you could even mix it up with the look.
For instance, choose an A-line skirt from Margaret M and pair it together with a feminine off-the-shoulder blouse and sneakers to create a 'weekend hangout look with your friends'.
If you are looking accentuating your curves and create an illusion of wider hips, pencil skirts from Margaret M are a great choice.
The close-fitting silhouette narrows towards the legs and adds a much deserving feminine flair to your overall look. When you choose the right skirt for your body type, you always want to find ways to showcase your best features without compromising your comfort.
Pencil skirts are highly recommended to create a crisp structure. The high waistline of pencil skirts elongates your look, trims the waist, showcases toned calves and highlights beautiful curves.
One of our other favorites is midi skirts and flared ones. Midi skirts are undeniably a must-have in every fashionista's closet. They are super flattering for most body types and creates an elongated look with just enough of your calf and ankle on display.
As for flared skirts, they are a great fit for an inverted triangle body shape. It will give you an illusion of being an hourglass. This type of skirt can be an amazing choice for creating a casual look. If you are struggling to find the best skirt style for your body type, read this interesting article.
Over the years, Margaret M has helped built confidence amongst women of all ages and all body types with our exclusive collection of slimming pants and slimming skirts. You no longer need to worry about finding the right fit, instead just pick your favorite and glam up for every occasion.
Whether you like patterned A-line skirts or a floral print pencil skirt, we offer a wide array of skirt collection that you can choose from. With Margaret M, you don't have to worry about style and comfort. Our clothing line is designed by fashion experts who understand and cater to the needs of women.
---